On or around January 8th, 2018 "Coolest Monkey In The Jungle" blazed across media platforms with controversy. The written statement appeared on an H&M sweatshirt modeled by a 4-year old Black Swedish child.
To be honest, when the H&M debate first hit the news I felt two ways about it. 1) I could be overreacting in a sensitive manner or 2) H&M has fudged up! Racist is a strong word, but being "unaware" is a fact under these circumstances. After evaluating both sides, I definitely believe the Black community has every right to address the situation.
If you know Black History, then the insult should be evident. When slavery ended in 1845, the animalization of the African-American population began. Not only was the Black community hindered culturally and financially by segregation, but being depicted as a monkey embodied subordination even further.
Monkey= unintelligent, unsophisticated, non-human, inferior status
The animalization representation did not end in the 20th century with segregation as many assumed. In 2009, the United States swore in the Nation's first African-American President, Barack Obama. I remember it like it was yesterday, it felt so good to be BLACK! President Barack was accompanied to the White House with First Lady Michelle Obama. Imagine the pride and joy that filled Black-Americans heart's having a Commander-in-chief who reflected their own upbringing.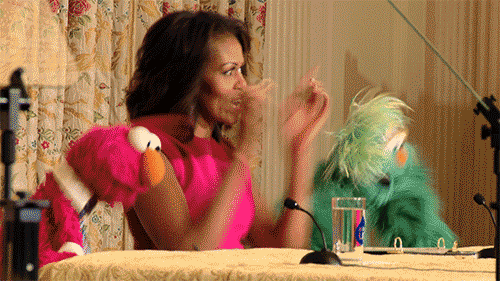 First Lady Obama was the epitome of a true African-American woman. Her intelligence, poise, down-to-earth humorous personality, community spirit, and improvement were traits foreign to previous First Ladies of the White House. Together, the Obama's glowing melanin improved standards across the United States. However, it did not take long for bigotry to ensue. Similar to the Jim Crow days, the Harvard Law School graduates were portrayed as monkeys. I must say, I have never witnessed such open disrespect for any President besides Barack Obama.
While in the White House Michelle Obama's beautifully strong physique was criticized unmercifully. She was called a man, "an ape in heels", "too ugly to be First Lady", overweight, and other hurtful descriptions. But she still slayed!
Past Tweets about the First Lady: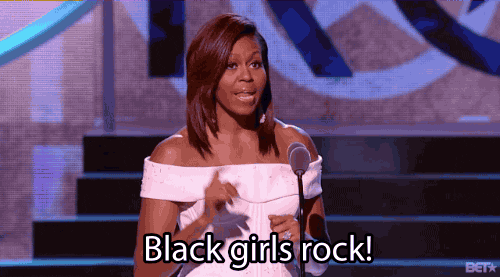 Nevertheless, I find it hard to believe H&M was unaware of the racial tones "Coolest Monkey In The Jungle" would deliver, especially when wore on a Black child. The company received backlash for selling Native American headgear just months prior. I was disappointed by how the child's mother responded to the disruption. I was also surprised to see she's black for some reason. Essentially, Terry Mango's response was weak! See her Facebook response.
Here:
Terry Mango's response comes off as uninformed. She claims in Sweden or European countries, racism is not a way of thinking. I call BULL$HIT. We often see Black athletes in European countries have bananas thrown at their bodies by fans when playing in arenas. The banana refers to the monkey animalization tactic discussed throughout this article. I believe the mother just wanted to carry on with her money in peace. Which would have been fine if she was not as sarcastic? Just because it isn't her personal problem does not mean she has to reject the entire outrage.
When Black people are upset about our portrayal in the media it often gets an eye-roll from outside cultures. But a question still remains. Why don't companies like H&M have racial "mistakes" with Latinos or Asians or Caucasians? In the late past, yes- but not modernly.  It does not make any sense.
In 2018, I hope to see diversity and cultural acceptance increase in the most positive way. It is time to stop underappreciating the importance of the minority population. In the words of Breakfast Club Power 105.1 FM radio personality, Charlamagne Tha God, "we control the cool".
H&M stocks have suffered a 45% decrease since 2017. For example, stocks were on average $246, but as of February 19, 2018, they are only worth $136- almost equivalent to when the company started gaining traction in 2008. I like to think this will be a lesson for other companies. Diversity is key. Living in the Dark Ages is no longer acceptable. Hiring people that look similar to their customers could avoid "misunderstandings" that hit such a sensitive spot.